By Debbie Wells
When your parents name you Max Ernst Greis, it seems inevitable that you would choose a career in art. New York born and bred, he is a master of the art of collage and has invented a hybrid of techniques way beyond traditional cut and glued paper. From traditional painting to multi-media, he constructs scenes with architectural, industrial, military and natural imagery.
I met Max Greis this spring while on one of our Artful Circle classes. As Franklin was curating art gallery visits for our groups, he arranged for the artist to meet us at Pavel Zoubok Gallery in Chelsea to talk about his debut solo exhibition entitled Samsara.
Greis was so engaging and had so much to say about his art, I then asked him for the opportunity to meet again so I could interview him for Artful Observer. Max Greis is a friendly and open person with an easy smile. One can tell that he loves what he does and is more than happy to share his ideas. We quickly planned to meet and talk about his life, philosophy and innovative techniques.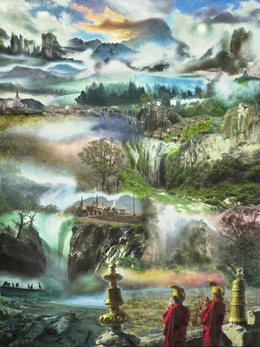 Max Greis,Samsara,2014, Video projection/acrylic on panel, 40×30 in
Personal Background
Now in his early thirties, Greis speaks fondly of his childhood. He was born into a creative family, including a father who studied at the Eastman School of Music and a mother who was involved in the arts and politics. She lived in the Chelsea Hotel in her twenties and was part of its circle of resident artists and writers. Naming their child after the Surrealist painter and sculptor Max Ernst was an unconventional, but inspired pick.
Growing up in New York City had a great impact on him, as he experienced the human collage of culture, style and people. He remembers being pushed in a stroller throughout the Metropolitan Museum of Art and Museum of Natural History. Later, when it came time for Greis to pursue a career path, he thought about the choices his father had made. His father struggled to make a full-time career as a classical oboist and instead worked in the bicycle industry. Greis made the practical decision to attend the prestigious Stuyvesant High School and then the University of Vermont.

Interpretation of a Changing World
After two years studying in Vermont, he realized that he should pursue art as a full-time profession. He then returned to New York to enroll in the School for Visual Arts. He lived on Hudson Street between Duane and Reade Streets in Tribeca. Artist Mark Tansey was one of his neighbors. It was while he was living there in 2001 that his view of the world changed forever.
On August 2, 2001, Max Greis celebrated his twentieth birthday with his family at Windows on the World. A few short weeks later, he witnessed the collapse of the World Trade Center from his rooftop on 9-11. Greis recalls actually feeling the heat from explosion and the ground trembling when the towers fell. While on the rooftop of his building nearby, he found a reservation slip from the Windows on the World restaurant lying in the soot and saved it as an eerie reminder of that day.
Greis considers that the tragic event marked the end of his childhood and believes "It was the destruction of America's own Tower of Babel, and my own personal apocalypse." This ignited his interest in the rise and fall of societies, from the ancient worlds in China to modern-day cultures.
He delved into understanding the human condition, how history unfolds, and reflected on the lost civilizations and empires of the past. His collage paintings, video projections and miniature dioramas explore themes of war, ecological ruin and the evolution of culture. The images in his works include apocalyptic landscapes, military and architectural panoramas. One can find multiple perspectives, moody skies, multiple suns, floating people and weapons all in one painting. He seeks to express the idea of "convulsive beauty," the Surrealist concept of juxtaposing something idyllic with something catastrophic.
Max Greis states, "Whether in painting, video or diorama, I utilize collage built from many individual landscape scenes, seamlessly blended together to construct a globalized vision. The world that emerges is composed of my forms, thoughts and narratives. I call it Archaic Armageddon."
The Making of a Collage
While an undergraduate at the School of Visual Arts, he stumbled across a book left on a stoop in the East Village. When he read the title, "Around the USA in 1000 Pictures", he was instantly fascinated. Printed in the 1950's, the book was a wonderful time capsule of American life printed in classic black and white. He cut up the pages and juxtaposed the pictures with clippings from National Geographic magazine. By blending the scenes, he created his own worlds with unexpected perspectives and otherwordly atmospheres, Greis soon discovered this unique form of landscape art would be the foundation of his signature style.


Max Greis, Forbidden City, 2015, collage/ acrylic on panel, 32 x 48 in
Max Greis also quickly realized that he would be lost without the iconic Strand Bookstore in Greenwich Village. It is still his haven for finding images of wildlife, Americana, national parks, foreign sites, ancient worlds and more. He scours the shelves of the store and proudly claims to "consider the Strand the best art supply store in New York! It is the best deal for source materials."
Over the years, he has accumulated vintage books, magazines, ephemera and artifacts. He has amassed his collection by sifting through crates of paper and history. Because having so much paper is cumbersome, he now scans his clippings into a digital archive. Not only does this save space, it also allows him more flexibility to experiment with scale and color without ruining the originals.
Beyond Traditional Collage: Layering with Paint
The highlight of the exhibition at Pavel Zoubok Gallery was to engage with the multiple layers of collage that Greis has mastered. First creating the paper collage on board, he adds touches of acrylic paint to enhance the imagery with gestural brushstrokes. Soft colors help create an ethereal impression and a blending of time and space. By building up the layers of paint, the color becomes more vivid. The paint is applied in a seamless manner by overlapping onto the collage and then sealed with a glaze to provide a smooth finish. The result is a photographic realism that isn't real and entices the viewer to examine and investigate how it was made.
Adding the Element of Technology: Video
Greis' work impressively pushes the boundary past two-dimensional collage and adds technology. To "achieve the idea of a literal moving landscape," viewers at first look at the painting and scan the images trying to make connections and understand the meaning. Then suddenly, motion becomes evident; a train goes through a tunnel, a soldier moves from side to side. The effect is a surprise and a bit hypnotic.
To achieve this, Greis gathers the visual material and creates a loop with a video program. Using a projector mounted on the ceiling, the resulting video clip is superimposed over the two-dimensional picture. The projector with the video file becomes a vital component and part of the art. The effect is that the painting is now alive with movement – ever so slight, but an important feature that gives the viewer a heightened experience.
This three dimensional quality is especially interesting to me because it is yet another expression of visual material. Paper is being replaced by digital representation. If you think about the internet and social media, it is easy to see that our attention spans are so short that we don't fully absorb what we see. The motion that Greis adds complements the picture, but is not fleeting. His combination of photography clips and video convey a memorable narrative.
More Fascination with Books
Dioramas made out of hollowed out books has become another one of Greis' innovations. He admits, however, that the idea originated with his mother. She cut the pages in the middle of a book to create a hiding spot for money when he was a child. He even recalls borrowing a few dollars from the book when he wanted to go to the arcade. When Greis took an artist's bookmaking class at the School of Visual Arts, he remembered the book-hole idea. When he asked his mother to explain the process of neatly cutting the hole, she couldn't recall how she did it. Thanks to modern technology once again, a simple Google search showed him the way.
Max Greis continues to spend hours at the Strand Bookstore looking for vintage books with provocative titles. As with his collages, he works hard to make all the elements fit together. The book becomes the blank canvas. The artist spends a great deal of time searching for objects to compose the miniature scenes inside. Carefully matching the small items to the book title, Greis works to make a statement. The fusion of book, title and objects makes for a compelling narrative.
More About Greis
In the Lefferts Gardens section of Brooklyn, Max has a studio filled with papers, books and magazines, as well as two computer monitors and scanners. He prints on acid-free papers with archival inks. He works hard to balance his "hands-on" approach and modern technology. Being organized is paramount as he carefully sorts his files of images and edited files. However, he admits that over the years, even as he uses computers more and more, Max still likes to get his hands dirty.
In addition to his MFA at Hunter College in 2014, Max Greis was awarded a Hunter travel grant to study the works of Bosch and Bruegel in Madrid, Vienna and Berlin. He's exhibited at the Edward Hopper House Art Center, Katonah Museum of Art, BRIC Rotunda Gallery, National Arts Club, American Civil War Center at Tredegar, and more. In 2015, his debut solo show at Pavel Zoubok Gallery was named an Artforum Critics' Pick in New York.
Greis' youthful exuberance was contagious as we talked about life and art in New York. It was a pleasure to get to know him and learn how he has merged his deep understanding of global history of into fascinating artwork. How Max Greis expresses his ideas is truly individual – both his philosophy and his use of art materials. His knowledge ranging from the Old Masters to the most modern digital technology allows him to produce collage across multiple media that communicate his ideas perfectly. I look forward to watching the career of Max Ernst Greis continue to soar.
For more information, visit www.maxgreis.com and www.pavelzoubok.com.
Photographs were taken at Pavel Zoubok Gallery by Debbie Wells.